A.G Appel Enterprises team is highly skilled and knowledgable when it comes to your residential excavator jobs. From digging foundations, to information on obtaining the correct permits, A.G Appel is there to assist you the whole project.
Not sure what size or machine you need? Contact us to speak to one of our experts.
Residential Excavator Sizes:
We have full sized to mini excavators including 290,270, 225, 200, 308 and JD35's with demolition hammer attachments.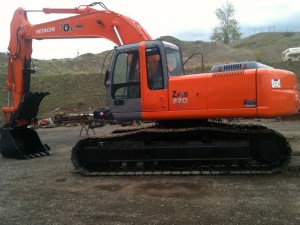 Residential Excavator Services:
Digging and backfilling foundations, trenches and services
Tree, brush and grass removal
Lot clearing and prep
Concrete and asphalt prep and removal
Old building demolition
Rock and concrete breaking (demolition hammer attachment)
Driveway and parking lot placement and preparation
Back to Residential Equipment
Residential Excavator Projects:

 Always Call Before You Dig 1-800-474-8668 or *8668 on Telus or Rogers mobility
( Customer must get BC1 call done 5 business days prior to starting excavation. A copy of your locates must be provided to A.G Appel before any excavation may proceed)