Have a large load that needs to be transported? A.G Appel Enterprises Ltd. has the lowed/highboy trailer to get your job done. Whether it is a piece of equipment you need to move, or lock-blocks you need to delivery, we have the experience to get your job done. Our Okanagan and Kelowna low bed services include lowbed, highboys, pilot trucks, booster and obtaining permits.
Kelowna Lowbed Services:
Need to know if your equipment or load can be moved? Contact Us to speak with an expert.
Trailer Sizes:
A.G Appel Enterprises has 5 axle, 6 axle and 7 axle trailers.
Lowbeds
Highboys
Booster
Pilot Truck Services:
A.G Appel Enterprises can provide Pilot Truck services for oversized loads. Please contact our office to find out how we can help you with your low bedding needs in Kelowna and area.
Lowbed Services: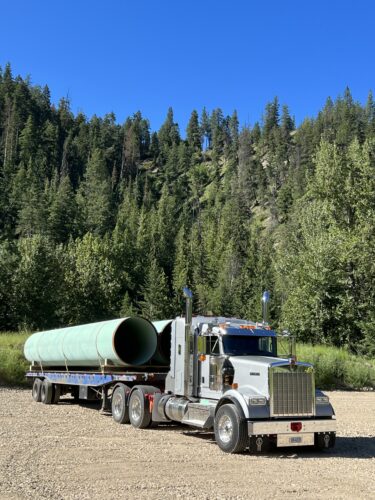 Moving equipment to and from your job site
Delivering Lock Blocks for walls
Moving other large loads (Contact Us to see if your load is able to be moved)
*Certain sized loads may need permits & pilot truck services at an extra charge
Note: Certain times of the year weight restrictions are put in place that may prevent us from moving certain equipment or may require more permits then usual. Please check BC Road Restrictions for more info.
Back to Residential Equipment